Struggling With Your MBA Assignment?
Place Your Trust On Assignment Ace
Get Help With Your MBA Essay
From Experts In The UK
Made it to the business school? Great! Coming closer to your dream job? Even more perfect. But what about the essays, quizzes, and loads of work? The academic journey is a real struggle. Students at every academic level have to submit numerous assignments every week in order to show their capability in the course. Professors particularly love essays because these papers allow them to assess the writing and research skills of the students. But it is not always possible to invest adequate time and efforts in completing them. Some students have limited time because of other tasks. Others are unable to understand the critical requirements of the paper. This is where our mba essay writing services fit in the picture. With our support, you can get your assignment completed on time without risking your grades or position in the class.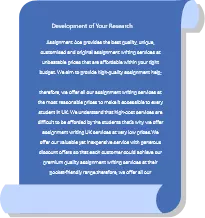 Features Of MBA Assignment Essay Service.
Starts from : £6
100% Original Product
Unlimited Revisions
Order Now
Money Back Guarantee
24/7 Assistance
Even If The Deadline Is Near, We Can Do The MBA Project On Time
Every student wants the best grades in class, that's for sure. But with so many responsibilities, even the best of the students are unable to work up to their full potential. Are you also facing issues in completing your assignment? Is the load of work taking a toll on your mental health? Do you want to take a break? You can relieve yourself from all the burdens with our academic writing service. As the academic nerds, we don't write assignment just for the sake of the job, but we actually love them doing. In other words, what makes our assignments different from others is that they are crafted with passion. We take care of all the requirements, including the deadline. In this way, you can rest assured that you'll get your project on time without any mistakes or flaws.
Our MBA Professional Writers Know How To Conquer A-Grades
Wondering about the quality of our work? The answer is simple – you are set for a good ride. Whatever we do comes down to the proficiency of our MBA degree writers. We have a very tough selection process, which ensures that only the most expert writers are included in our team. Every candidate has to appear first for an advanced grammar and writing test. This allows us to evaluate their skills in researching and writing, together with proficiency in the language. Those who pass this stage have to appear for an interview. In this way, we are able to identify the soft skills of candidates, such as communication and problem-solving. Only those candidates that reflect they will be a good fit in our team are hired. Each one of our writers comes from recognized universities in the UK. In other words, only the most reliable and expert British writers will be working on your MBA assignment.
You Won't Find A Better Assignment Writing Service Elsewhere
At Assignment Ace, we are concerned with the results most. This is why we make sure that every assignment we write is free from all sorts of mistakes. Our writers take extra care in perfecting every element of the assignment. From formatting and language to the content, each part of the report will truly stand out. This makes our assignment writing company truly competent. Our goal is to help students not only pass their classes but also get the best grades. From London to Bristol and beyond the UK, our services extend to countries around the world. Our services are also very affordable because the prices of our homeworks are formulated with the student budget in mind. We know students cannot pay a lot. They already have to pay for the tuition fees and work part-time jobs to deal with the expenses. In short, you can get top-notch papers at low prices.
Place The Order Today & Get Ready To Ace Your MBA Class
With our assignments, you'll also get free formatting, title page, bibliography, and outline. And not to forget limitless revisions. Since customer satisfaction is our topmost priority, we ensure that students are completely happy with our MBA assignments. So if you feel that some part of the paper should be changed or if your professor has asked for corrections, we can make the revisions. With our papers, you will also get a free plagiarism report, showing the uniqueness of the assignment. How good does it sound? Don't even worry about the deadline, as we can work on your MBA project within the expected date. Our customer service team is available around the clock that can cater to your needs. So don't wait anymore. We will be happy to provide our academic writing services.
Brian Kenneth Reviewed:
Rating :

5/4.8
"I am currently pursuing MBA degree and I needed a cheap assignment writing service with quality work so I hired them. It is going good till now and I am looking forward to get their help in future too."